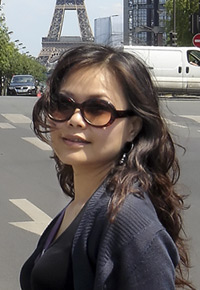 Kate Chung was born in Kaoshsiung (Taiwan) and lives in Pescara (Italy).
1986 - 1991 - Major: Fashion Design
Tainan University of Technology (Tainan Home Economic Junior College).
1992 - 1995 - Bachelor of Fashion Design
Academy of Art University, San Francisco, CA, USA.
1997 - 1998 - Graphic Designer
Protect Advertising & Print Co., Ltd. (Taichung City, Taiwan)
Assisted supervisors in schemes making and communicating skillfully with clients. Knowledage of Pre-printing preparation process.
1998 - 1999
Supervisor of Graphic Design Department
Shang Li Graphic Design Co., Ltd (Kaohsiung City, Taiwan)
Managed the design department
Expert of food safe and healthy packaging
Developed, organized and analyzed informations and turned them into workable and effective plans
Participated as a copywriter for various projects
2006 July - 2010 Jun - Senior English Teacher
KaohMing Education Institute (Kaohsiung City, Taiwan).
http://www.km999.com.tw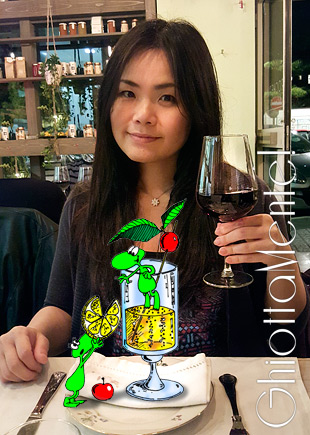 2009 - Present
Creates and directs the online magazine GhiottaMente (www.ghiottamente.com) about "fusion cousine", one of the most particular and followed sites in the crowded universe of Food. Works with "Nextnex Imaging" together with the photographer Rino Giardiello.
2011 - 2017
Member of ARGA Lazio Abruzzo Molise, the only group of specialist journalists of F.N.S.I. National Federation of the Italian Press about nature, food safety and enviroment in Italy.
2012 - 2017
Contributer with weekly TV Show about food survey, food safety and food traditions, "Greensat" on SKY 858.
2012 January - December
Assisted in leading and instructing the teams which was formed by teen students from different schools in Abruzzo (Italy) to partecipate in the project "CIAK, AZIONE, PREVENZIONE" organized by LILT, winning three awards (First Classified) in three different categories.
2014 February
Contributer to the project of the new logo design for "Turnpike Enterprise", a motorway network in Florida, that will identify the Company with the Italian Designer Rino Giardiello.
2018 - Present
Graphic Designer, Web Designer and Illustrator for "Nextnext Imaging" since 2009, takes care of the graphics and communication of "Feeling Home" by GT-Art, ArchiReview, "Photo Abitare" and many other graphic projects in Italy and abroad.
Organisational / managerial skills
• Excellent organisational and prioritisation skills
Computer skills
• Expert with Adobe Photoshop and Apple programmes
• Competent working with Macintosh computers
• Competent with most of Microsoft Office programmes
• Competent with "Final Cut" and Video Editing
QUALIFICATION HIGHLIGHTS
• Dedicated, resourceful and innovative TESOL teacher with over ten years of experience
• Highly skilled in creating an environment suitable to the maturity, interest, and abilities of students
• Hands-on experience in creating lesson plans and curriculum development
• Support colleagues and administration in facilitating each student's social and intellectual growth by creating an atmosphere of mutual respect and open communication
• Exceptional communicator with students and parents, with a caring and diplomatic manner
• Organized time, space, and resources to balance heavy workloads and stringent deadlines